Ridges Golf Course Detail
Make no mistake, the real star of the show of The Ridges Golf Course is the challenging, yet enjoyable golf layout. Visitors will find a high quality of play at The Ridges beginning on the first tee to the 18th green. Get an eagle on the 18th, and proudly add your name to the base of our beautiful saw-carved wooden eagle as your finish your round.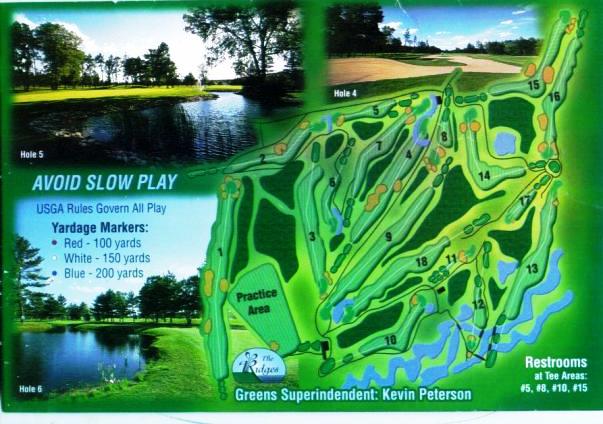 The front nine gradually tightens as it finishes up with the narrow tree lined ninth fairway. The par 5 ninth hole will give you a taste of what you are in store for as you turn to the back nine. The back nine begins on an actual ridge with a tee shot that overlooks towering pines, the Buena Vista Creek and the flourishing valley floor more than 80 feet below. The back nine is wooded and tight. Ask our members, and they'll tell you that at The Ridges it is often best to leave the driver in your bag when you make the turn. The front nine has some challenging holes, but we say this with a smile; the back nine is undeniably different. We can't wait for you to see it!
Hole Descriptions
Hole 1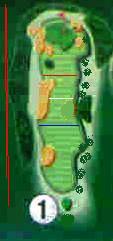 Par 4: Straight away with OB down the left side, bunker down left side of fairway and 4 bunkers around the green.
Options: From white tees hit a 200 yard shot to 300 yard shot, however do not go left of the bunker guarding the left side and do not go more than 10 yards right of the fairway as it is tree lined, so whatever tee shot is hit, it would be a good idea to hit it somewhat straight.
Hole 2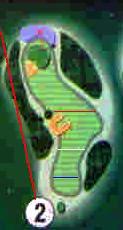 Par 4: Dogleg left with OB down the left side all the way to the green, bunker left side of fairway and left side of green, water behind green.
Options: A nice little draw around the bunker with the driver will leave a little wedge to the green, however do not over cook it into a duck hook. If a tee shot is hit too far, hitting a chip back to the fairway from behind a tree might be necessary. A nice 200 to 220 yard shot lay up will leave a second shot of 130 to 150 yard approach.
Hole 3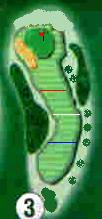 Par 4: Dogleg left, bunker left side of green.
Options: 230 yard draw over the edge of mounds left side of fairway will leave about a 150 to 160 yard approach or a 250 plus yard big draw aimed left of the tallest pine tree down the right side of the fairway leaves a short approach of 100 to 120 yards. Bunker left of green, green slopes back to front. A nice tee shot makes this hole a birdie possibility.
Hole 4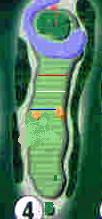 Par 5: Straight away with pot bunkers left and right side of fairway, water surrounding green front, left, behind, and partially on right side of green.
Options: Grip it and rip it if you can hit it straight or fly 250 plus if a little right or 240 if a little left, tree lined left and right, big drop off down right side of pot bunker from 220 to 280 yards from tee. This is an opportunity for an eagle, however there is a lot of water around the green and a sloping green from back to front. Defiantly a chance for birdie or eagle!
Hole 5

Par 3: Bunker front left, water surrounding right to rear of green. OB right side from tee to green inside maintenance road.
Options: 180 to 200 yard club to a protected green. OB to the right. This hole has by far the least hole in ones and probably the fewest birdies. It looks easy but be really careful or you'll be trying not to make a double or worse.
Hole 6
Par 4: Dogleg left with water down left side from 85 yards and along the whole left side of green.
Options: This hole is another eagle opportunity; it's a short dogleg left that can be reached with about a 270 yard draw. The green is guarded on the left by water and is probably the most difficult green to read. A 150 to 170 yard tee shot will leave you a 100 to 120 yard approach. This green can be difficult to hold, so hit it high and soft.
Hole 7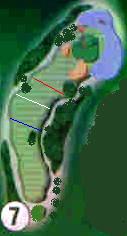 Par 4: Dogleg right with bunkers front left and front right of green, water right of and behind green.
Options: All it takes is a nice big fade aiming at the Big Oak tree on the left side of the fairway. The problem is if it doesn't fade you are in trees and if your fade turns into a big slice you are in trees. Maybe you want to hit a 200 to 220 yard shot over the tall pine just short of the dogleg leaving around 150 yards or so. A big drive can leave 50 to 100 yards or less.
Hole 8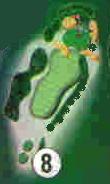 Par 3: Good news—No water….Straight away a little up hill, bunkered short left and short right and bunkers left and right behind green. Left of green drops off about 50 feet so stay right if you miss hit.
Hole 9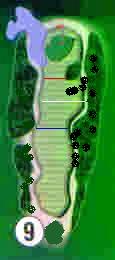 Par 5: Straight away but uphill off the tee to a green guarded left by water.
Options: Shorter tee shots of 220 to 240 will get you to the top of the hill. A layup shot of 180 to 200 will leave approximately a 100 yard approach shot. Big hitters have an opportunity for an eagle on this hole, however water left from 40 yards out and up left side of green up to about a 1/3 of green. This green is not a big target left to right but is deep and slopes back to front.
Hole 10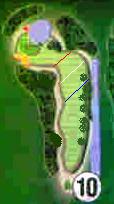 Par 4: Dogleg left with water on the right side of fairway and right side of green, bunker left front of green.
Options: Wanna be aggressive? Off the left side of the fairway you will see a hill, pick out the largest pine tree and either hit a big draw over the top of it or aim about 20 yard left with a big fade. You will either be in front of the green, on the green, in the trees right or left or in the water. If you are on the green or close, that was fun, if not then maybe you should have hit a provisional shot of 190 to 210 yards off the tee to the center or a little right center of the fairway. Maybe the provisional will not be necessary if you hit the 190 to 210 yard tee shot to begin with. 120 to 160 yards will remain depending on left or right side of fairway.
Hole 11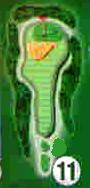 Par 3: Very short par 3 reachable with easy wedge for most people. Large green protected with large, deep bunker in front of green. Left or long is tree lined. This is a birdie hole that you can take advantage of.
Hole 12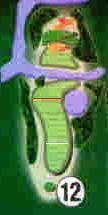 Par 4: Elevated tee with trees right and left of the fairway, a pond on the right side about 180 off the tee. The green is bunkered in front, with water left and behind the green, water right but room for a little bit of a bailout. Water runs across this hole from about 210 yard off the tee.
Options: A placement shot from 150 to 190 will give you a nice approach shot to this green. This is a really fun hole! Another Eagle opportunity! Any where from 230 to 240 yards to clear the water, and 280 to the green. Bailout is to the right side of the green with a landing area of about 20 to 30 yards.
Hole 13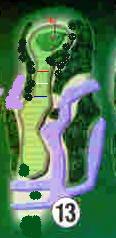 Par 5: A little bit of a double dogleg. This is the #1 handicap hole
Options: Shorter hitters can layup left of the water on the right pretty much any distance leaving a layup over or around the trees on the left side of the fairway. Water in front of the tee box, and down the right side of the fairway up to 190 yard from the green, water also down the left side from 220 yards off the tee to 110 yards of the green. Bailout is down the left side of the fairway or even up to 15 yards into the rough; however you will need to lay up over some tall pine trees for your second shot if you bail out left. The fairway narrows about 275 or 280 off the tee so if you hit it long and straight an approach shot to the green is very reachable. There are no bunkers or water around this green, however this green is a little smaller and needs a nice high shot to carry a tall Oak Tree about 20 yards short of the green on the right side of the fairway. Lots of golfers have called this tree some pretty bad names.
Hole 14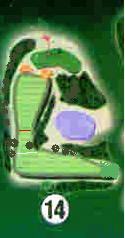 Par 4: 90 degree dogleg right with a very large elevated green guarded by 2 small bunkers in front of the left side of the green and one larger bunker on the right half of the green.
Options: Tee shot can be anywhere from a 190 to 220 yard shot straight off the tee, however a tree locally known as the octopus tree guards the right side approach shot, so do not leave the tee shot short. We have a sign on the tee box showing pin placement and will influence how aggressive one needs to be off the tee and whether a longer tee shot is preferred. The right side pin placement means a little longer tee shot if a layup is your game. More aggressive shots would be a long medal club or driver with a big fade or slice, or maybe a high lofted driver over the top of trees off the right side of the tee box. The left side of the green is aggressively sloped from back to front and your approach needs to be below the hole, while the right side of the green is a little firmer and the approach shot should be lofted high with a little spin. A word of warning—-three putting this green is possible and as likely as one putting it, so stay below the hole! This green measures 80'deep X 190′ wide so keep your approach to the correct side.
Hole 15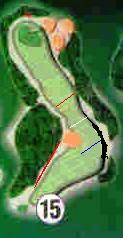 Par 4: Dogleg left over or around a large bunker at the bend of the fairway. OB left up to the left side of the sand trap.
Options: The safe shot off the tee is about 200 to 220 yards right of the bunker which will leave you anywhere from 170 to 220 depending on your accuracy. Risk reward shot is a big draw over the left side of the bunker. Go left and you're in heavy pine trees, go right and you're in an assortment of trees. The green is a two tiered green with deep hidden bunkers short right. Staying on the correct tier of the green will make your putt much easier.
Hole 16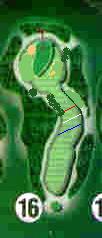 Par 4: A dogleg left that requires a straight drive of around 220 to 250 yards.
Options: This hole has trees right and left and requires a very good tee shot. The tee shot needs to be a little right center if it is a shorter tee shot, a big drive down the middle will kick left toward the green with the slope of the fairway. The approach shot will be from 90 to 170 yards downhill to a green with a small bunker on right front and large bunker long left.
Hole 17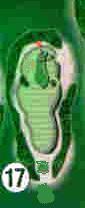 Par 3: This hole is slightly uphill with runoffs both left and right. Nice size green with slope from back to front and very accessible to a nice tee shot. Altogether a very tough par 3.
Hole 18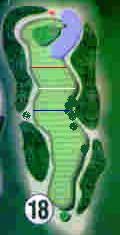 Par 5: Reachable par 5 with trees left and right and a green guarded on the right with water and tree trouble left.
Options: Pull out the driver or 3 medal if your long and whale away. Most of the real danger is left with lost ball while the right of fairway is more forgiving. With a good drive you'll have a long to medium iron second shot. Water starts 10 yards short right of green and extends right of green to 15 yards past green. Too far left and you'll have a problem finding your ball, even if you do it will usually be a difficult punch out.