Weddings at The Ridges
You Say "I Do", and We'll do the Rest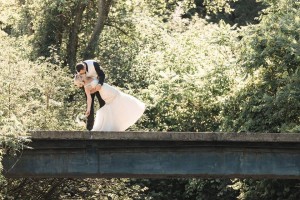 Are you ready to have the wedding day that you have always dreamed about?  Let The Ridges make Your Special Day an unforgettable experience.  We take all the stress our of planning your Wedding Ceremony, your Reception or The Whole Package because we have handled hundreds of weddings and receptions here at our beautiful facilities.
What Sets Us Apart From the Rest?
* A Beautiful location for the Ceremony, Reception and Photographs
* A Wedding Specialist dedicated to YOU – we will guide your through the whole process to make your day memorable and "seamless".
* Our menus are "suggestions" and are not mandated – our menus let you know what we have successfully put together for families in the past.
Ultimately, it is your choice what your guests will enjoy, and what fits within your budget.  Just tell us what your would like and we will strive to put it together for you!
* Easy terms and conditions – we have no "hidden costs".  You'll know everything that we are providing and you'll be fully aware of our prices.  Your wedding can be planned with one of our "packages" or you may customize to fit your needs and budget.
Contact Michele and she will provide all the information and options to make this an enjoyable process. We will make your wedding day one that you, your family and guests will remember for years to come.
Banquet Rooms
The Ridges is proud to offer three unique venues for your event.  Let us help you choose the room that will be just right for your next event.
Legends Room
The Legends Room is perfect for smaller parties and business meetings.
1400 square foot area fully air conditioned
Newly remodeled in March 2022
Seating for up to 55 guests
West Wing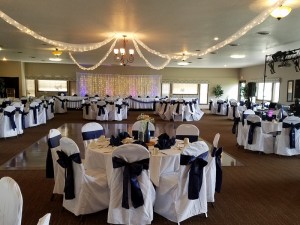 The West Wing is perfect for larger group celebrations or golf outings.
(Newly remodeled in 2015)
5400 square foot banquet area
Fully air conditioned
Full service in-room bar
WiFi and wireless sound system
Seating for up to 250 guests
Windows overlooking golf course
16'x28′ dance floor
Pavilion
The Pavilion is  perfect for larger group celebrations, meetings or golf outings. (Flooring update in 2022)
5700 square foot banquet area
Fully air conditioned
Full service in-room bar
WiFi and wireless sound sytem
Seating for up to 350 guests
Beautiful view of golf course
20×30 dance floor
May be set up for smaller group or meeting